100 Year Celebration coming in 2017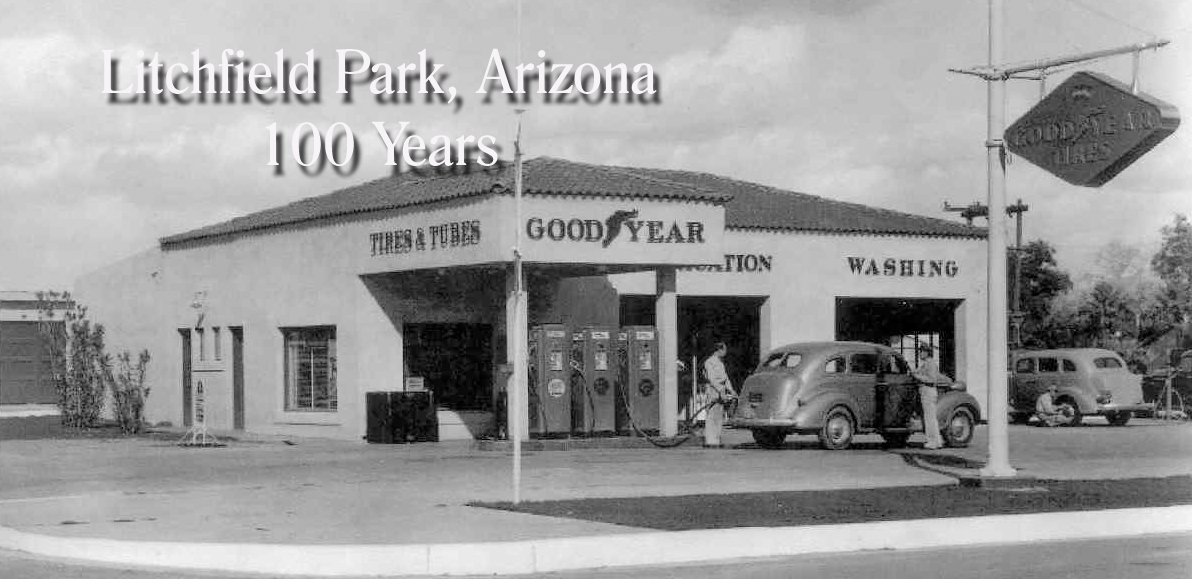 100 Year Celebration coming in 2017
In 1858, a report made to Congress described Arizona: "The region is altogether valueless.  After entering it, there is nothing to do but leave."  With the addition of Litchfield Park, this idea was challenged.
The City of Litchfield Park is a beautiful city within 3.3 square miles, located just 15 miles west of Phoenix, Arizona. Mr. Paul Weeks Litchfield designed this community 100 years ago, with wide boulevards now lined with towering palm trees and beautiful orange trees. It features a quaint downtown with a choice of restaurants, a busy county library, and a recreation center with a pool, basketball and tennis courts and a licensed pre-school.  There are dentists, financial planners, realtors, a law practice, a gym, hairdressers, martial arts lessons, and a barbershop.
Of the 5,500 residents, the median age is 44.2 and 45% have a college degree. The median household income is $77,481, ranked seventh in the state of Arizona. Litchfield Park was designed for sustainability with houses of all sizes. There are apartments, condominiums, patio homes, small homes, homes on the golf courses, gated community homes, and million dollar homes, all with the median home value in 2014 of $288,900.
Litchfield Park has twelve miles of winding pathways and over thirty-five acres of parks, a six-acre fishing lake, and open spaces surround the AAA Four-Diamond Wigwam and its 54 holes of golf. This 1918 historic retreat is known as an "oasis in the desert."
Litchfield Park has become known for its award winning special events, concerts, festivals, and celebrations that take place over the year. Of the more than twenty events annually the City has been honored for their 25th Anniversary of Incorporation event, Christmas in the Park, the spring Fine Arts and Culinary Festival, the Native American Fine Arts Festival, and the six, free Arts in the Park outdoor concerts. Over the past 45 years upwards of 100,000 have come annually to enjoy the fall Library Festival of the Arts held each November.
Mr. Litchfield would have been proud of his City when it received the 2014 Movoto's rating as the #1 "Place to Live in Arizona".
https://discovertheregion.com/wp-content/uploads/2016/12/CC_Dec-2016.jpg
579
1192
Celeste Crouch
https://discovertheregion.com/wp-content/uploads/2019/08/Discover-The-Region-Publications-Logo.png
Celeste Crouch
2016-12-13 14:48:57
2019-08-06 16:51:40
100 Year Celebration coming in 2017